Advancing Exploration in a New and Accessible Canadian Mineral Belt
High-grade Sedex-type mineralization was discovered in 2018 by geochemical prospecting and drilling:
Maiden drill program (11 holes, 1271 m) intersected shallow, high-grade mineralization, open for expansion:
8.0% Zn, 2.0% Pb and 16.2 g/t Ag over 9.93 m at 60 m below surface,
Nine of 10 holes intersected shallow mineralization across a 350 m trend.
New large zinc and silver/gold targets were defined and acquired between 2019 and 2021.
Results from the 2022 exploration and drill programs build upon the success of the discovery of mineralization in 2018 and new targets identified along trend:
Exploration drill program (17 holes, 2626 m) – expansion of mineralization and intersection of new occurrence of zinc with copper-nickel-cobalt
Approximately 10 km of untested base and precious metal targets,
Airborne geophysical survey covering 30 km length.
Easy Access – Excellent Infrastructure
The project is located 90 km southeast of the city of Prince George, the major hub for transportation and heavy industry in central British Columbia. Indy is about a 1.5-hour drive from Prince George.
The project is accessed via 70 km of forestry road from the Yellowhead Highway (Hwy 16). It is located 85 km from the intercontinental Canadian National Railway (CNR), servicing the Port of Prince Rupert and connecting to the Port of Vancouver, and 35 km from hydro-electric transmission lines.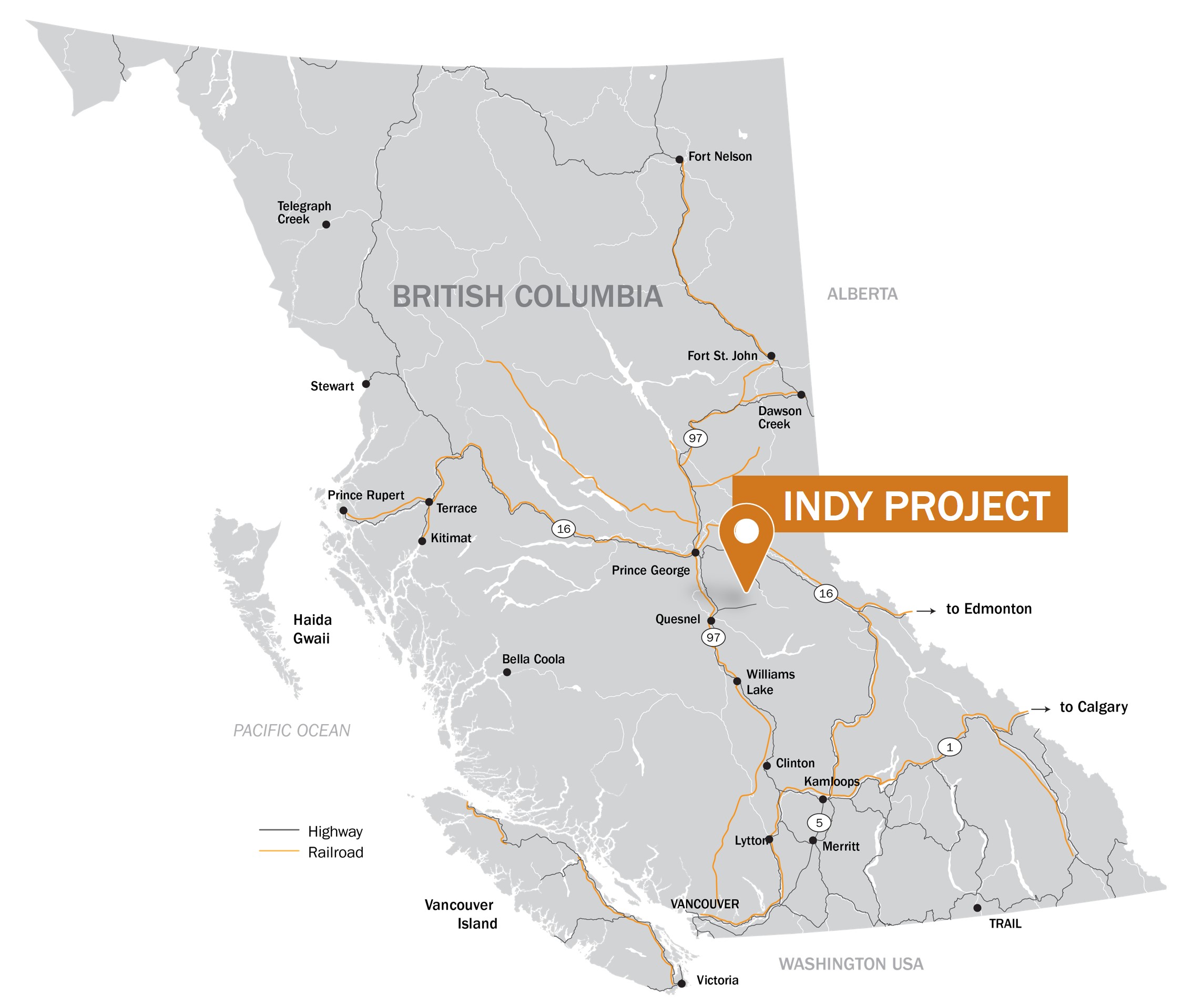 District Scale Tenure - A Major Presence
The mineral claims extend over a continuous 30 km (200 km2) trend comprised of unexplored mineral showings and large soil geochemistry anomalies within rocks with a known affinity for hosting large base and precious metal deposits.
South32 (ASX, LSE, JSE), a global mining and metal producer, independently staked 200 km2 of mineral claims northwest of Indy in late 2021 and renewed the claims in late 2022.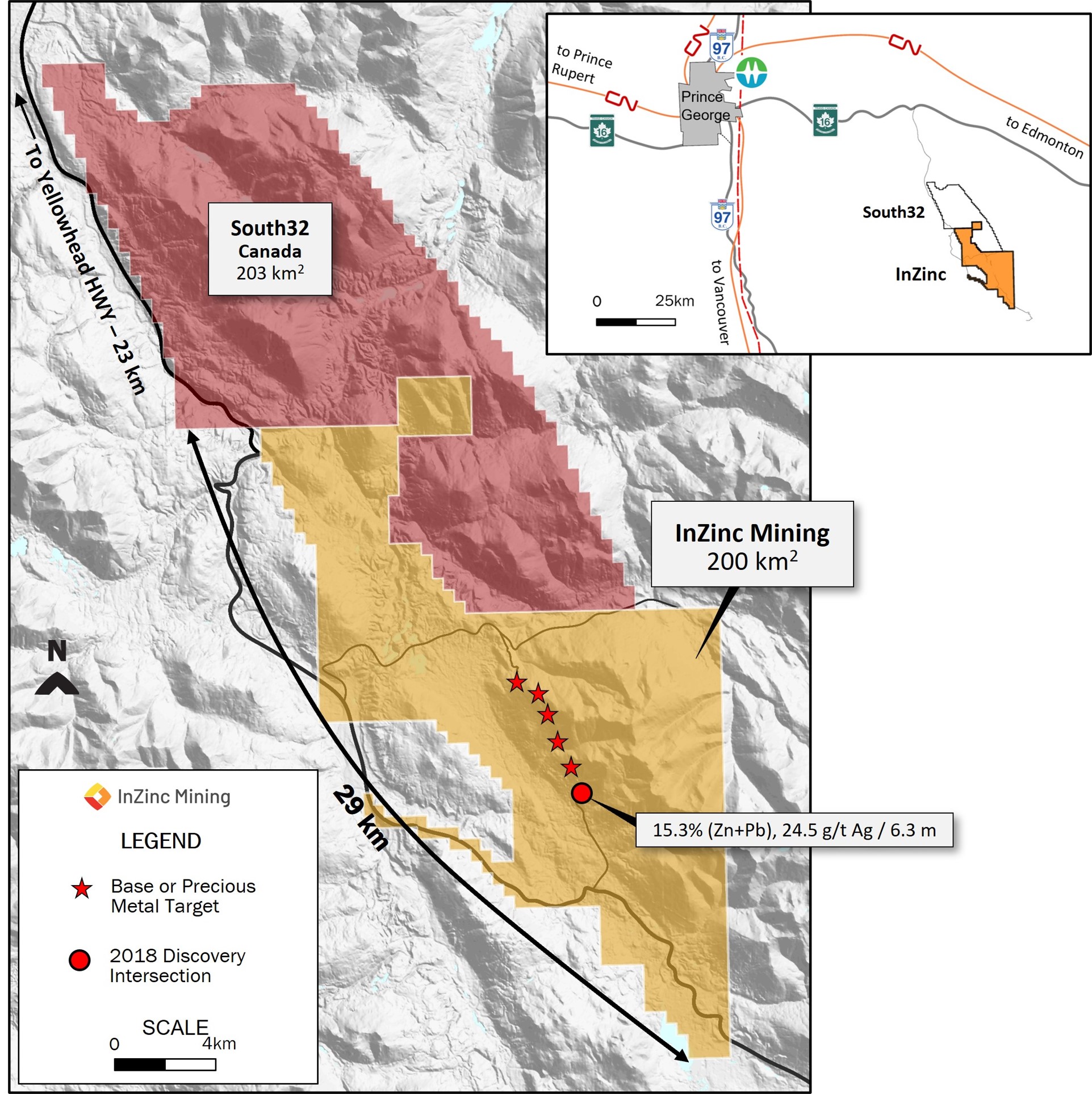 ~10 Km of Drill Targets – Identified by Soil Geochemical Anomalies
Extensive soil geochemistry surveys, mapping and prospecting programs completed in 2019 and 2021 identified a Main Trend with an aggregate length of approximately 10 km of distinctive geochemical anomalies and drill targets.
High quality base and precious metal drill targets identified over the Main Trend include:
Base Metal Targets:
Echo (zinc) – 1.9 km long
Delta Horizon (zinc) – 1.5 km long
Keel (zinc/silver) – 400 m long – tested 2022
Anomaly C (zinc) – 750 m long
Anomaly B (zinc) – 3.5 km in 3 extensive linear targets
Action (zinc) – 750 m long
Precious Metal Targets:
Hat (silver) – 700 m long
Fox (silver, gold) – 1.0 km long – partially tested 2022
Anomaly G (silver) – 500 m long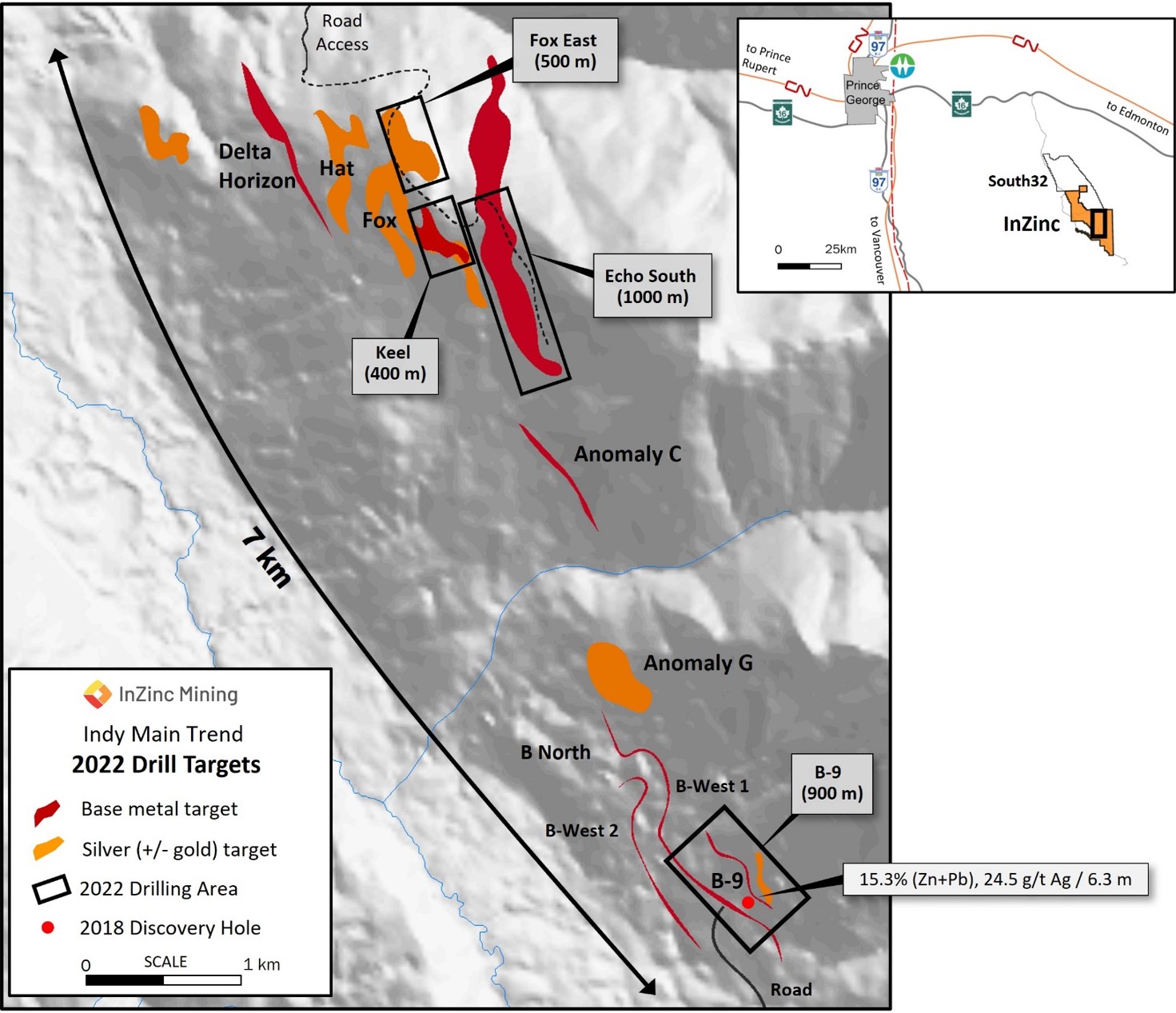 2018 Discovery Drilling at B-9 Zone
The 2018 drill program discovered strong mineralization at less than 60 m depth at Anomaly B. Nine of 10 holes intersected shallow mineralization across a 350 m trend. Named the B-9 Zone, the mineralization remains open for expansion in all directions.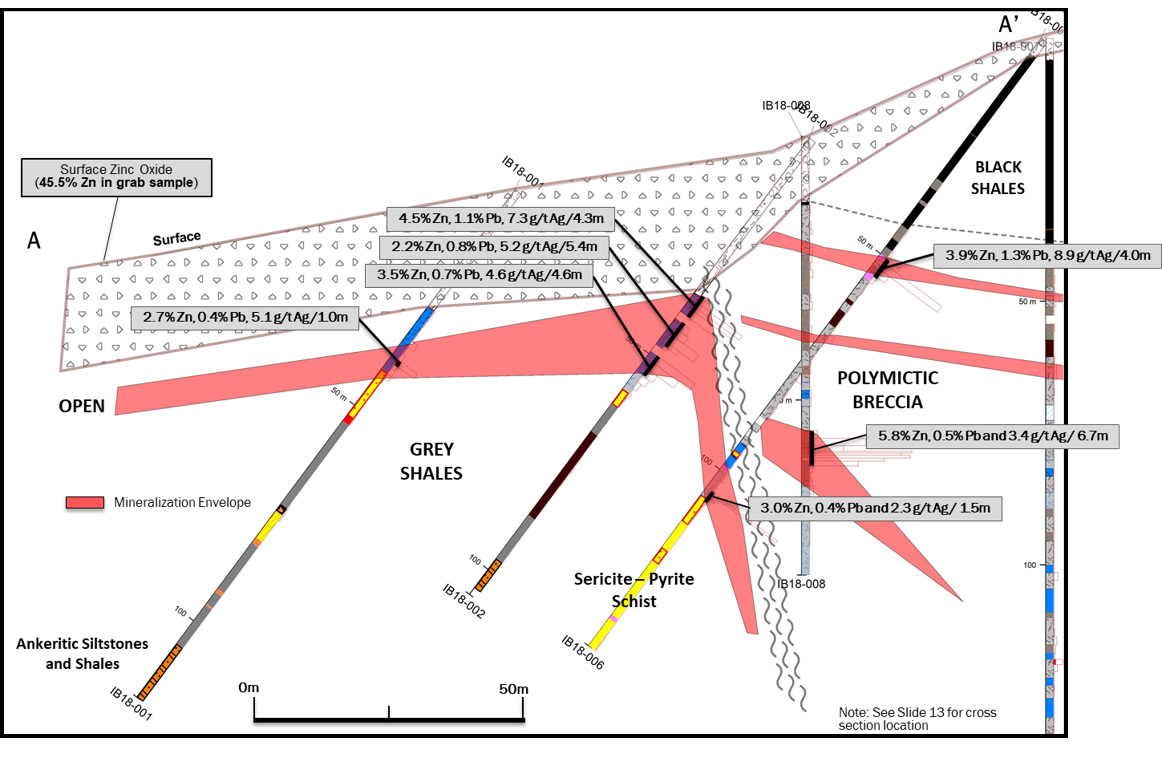 2022 Drilling Extends B-9 Mineralization
The shallow, wide spaced 2022 drill program at the B-9 Zone (5 holes, 699 m) explored along a 450 m trend to 130 m at depth. Four of 5 holes intersected shallow mineralization. The drilling demonstrates both continuity and expansion potential of near surface mineralization discovered in 2018. Mineralization remains open for expansion to the north, south and at depth.
Geophysical and geochemical surveys indicate stratigraphy hosting B-9 continues well beyond current area of exploration drilling.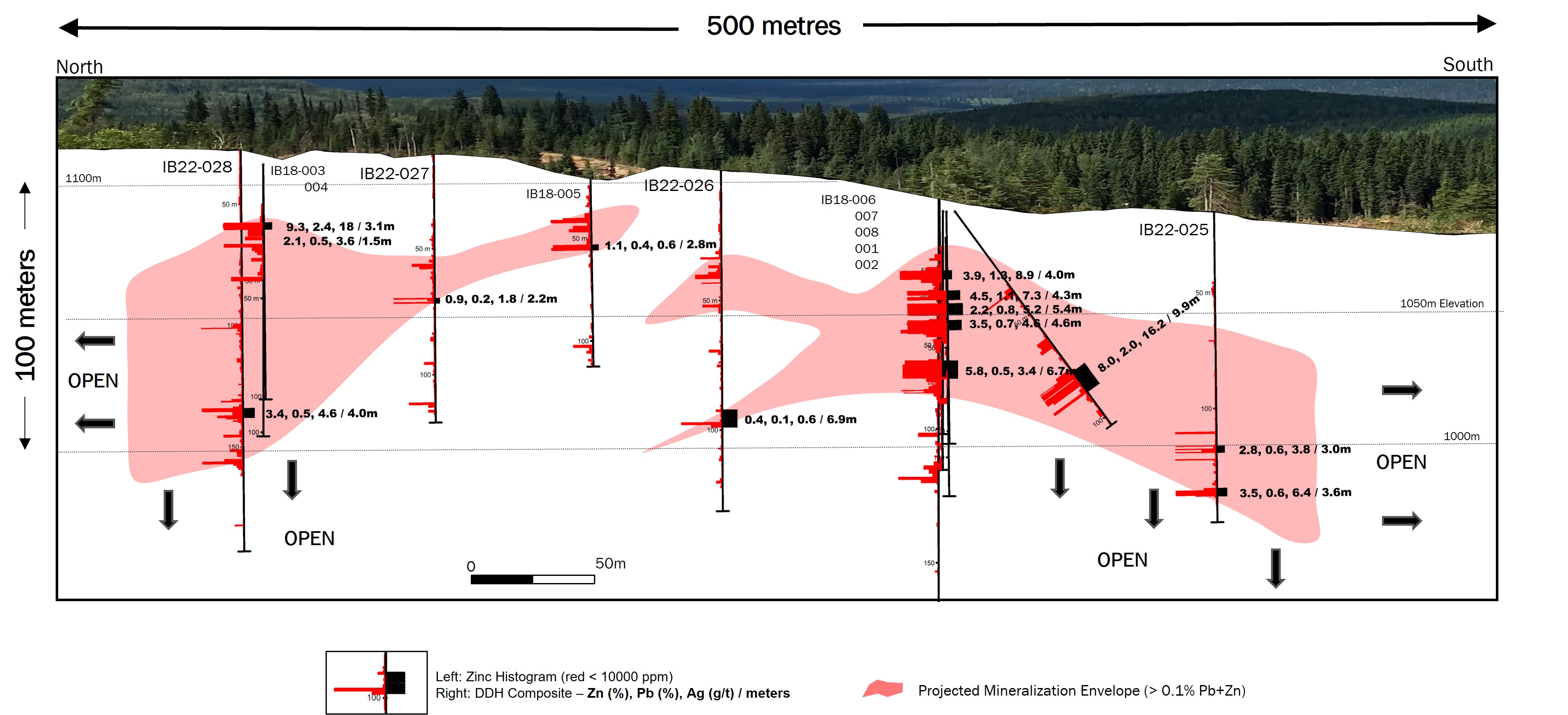 B-9 Zone – Shallow Mineralization is Open for Expansion in All Directions
Vertical Long Section
2022 Drilling Discovers Copper-Nickel-Cobalt at Red Keel
A new occurrence of zinc with copper, nickel and cobalt was intersected in 2022 between the Keel and Echo Central geochemical targets. Drill hole IB22-020 intersected 27.1 m of buried oxide material starting at 47.3 m downhole and averaging 0.67% zinc and 0.13% nickel. Named Keel Red, the upper part of the core interval (from 47.3 m to 55.0 m) also returned 0.11% copper over 7.8 m. Additionally, the 27.1 m interval is anomalous in cobalt content averaging 163 ppm with values up to 962 ppm over a 1 m core length. Oxide type mineralization is a potential pathfinder to primary sulphide mineralization.