Preliminary Economic Assessment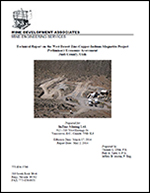 The technical report on the Preliminary Economic Assessment ("PEA") of the 100% owned West Desert zinc-iron-copper project (the "Project") in western Utah was filed on SEDAR on May 7, 2014. The results of the PEA were announced in an April 1, 2014 news release and illustrated the potential for low-cost zinc, copper and iron production through conventional bulk underground mining and processing methods while generating strong cash-flow and a high rate of return.
Highlights of PEA
after-tax NPV(8%) is US$258.1 million, IRR is 23% and payback is estimated at 3.7 years assuming a zinc price of US$1/lb and a 14.8 year mine life at 2.37 million tonnes per year
conventional underground mining and processing with good recoveries
average annual zinc production of 107.9 million lbs
average annual iron concentrate (magnetite) production of 1.0 million tonnes
average annual copper production of 9.9 million lbs
average direct cash costs (C1) of US$(0.04) per pound of zinc and average fully allocated costs (C3) of US$0.50 per pound of zinc
initial project capital costs of US$247.4 million, including contingencies
good potential for resource expansion
Metallurgical test work confirmed that the underground resources of the West Desert project are amenable to conventional flotation processing to produce marketable zinc and copper concentrates. The concentrates will respectively contain significant levels of indium and precious metals and are clean, with no deleterious elements at penalty levels. Test work also demonstrated that a marketable iron (magnetite) concentrate can be produced at very high recoveries and low expense using traditional magnetic separation. Efficient removal of a magnetite concentrate in advance of flotation improves the overall zinc and copper grades of feed to the flotation plant and enhances base metal recoveries.
The Project benefits from all-weather road access, on-site grid power, proximity to natural gas pipelines and is located 90 km from multiple transcontinental rail networks servicing western US ports and major North American markets. In addition, the West Desert Project also benefits from large and potentially expandable resources. The Project is fully permitted and bonded for future exploration.
The PEA was prepared by Mine Development Associates ("MDA") with contributions from International Metallurgical and Environmental Inc.("IME") in accordance with the definitions in Canadian National Instrument 43-101. All dollar amounts are US currency. The PEA is considered preliminary in nature. It includes Inferred mineral resources that are considered too speculative to have the economic considerations applied that would enable classification as mineral reserves. There is no certainty that the conclusions within the PEA will be realized. Mineral resources that are not mineral reserves do not have demonstrated economic viability.
Economics
The table below summarizes base case economic metrics for the project as well as its sensitivity to the price of zinc:
After-Tax

Pre-Tax

Zinc Price ($/lb)

NPV (5%)

NPV (8%)

IRR (%)

NPV (5%)

NPV (8%)

IRR (%)

Payback (Yrs)

0.80

$238M

$146M

17%

$321M

$208M

19%

4.9

1.00

$377M

$258M

23%

$507M

$357M

27%

3.7

1.20

$507M

$363M

29%

$693M

$506M

34%

3.0
Note: US$; base case at Zn=$1 in bold
Project economics were estimated on the basis of the average of long term metal price forecasts periodically published by a number of large banking and financial institutions and included zinc at $1/lb, copper at $3/lb, iron ore at $105/t (62% Fe, CFR-Tianjin), gold at $1,300/oz and silver at $21/oz. The project's iron concentrate (magnetite) is expected to attract a $10/t premium to the Tianjin benchmark iron ore price and be priced at $115/t. No long term projections were available for the indium price and a price of $600/kg, well below the current spot price of about $750/kg, was chosen.
Mining and Processing
The PEA contemplates a 5,000 tonne per day underground mining operation ramping up to 6,500 tonnes per day in year three using longitudinal and transverse long-hole open stoping mining methods based on the underground resource only. Near surface oxide resources were not assessed and remain as a future opportunity.
Access to the deposit would be via two ramps, one of which would also host a conveyor system for ore haulage. A total of 34.0 million tonnes would be mined over 14.8 years at an average run of mine mill feed grade of 2.72% Zn, 0.27% Cu, 44.0% magnetite and 30 gpt In. Indicated and Inferred resources below the mining cut-off grade but located inside designed stopes were used to dilute the material processed at grade. Internal dilution of non-resource material was added at zero grade. Average total dilution in the potentially mineable material is approximately 20%.
Run of mine material would undergo crushing and grinding to 65 microns followed by separation of a magnetite concentrate using traditional low intensity magnetic drum separators. Metallurgical studies have shown better than 95% recovery of magnetite into a concentrate grading 63% iron with no deleterious elements. The iron up-grading process is effective at removing copper and zinc and insignificant levels of these metals remain in the iron concentrate. The non-magnetic tails from the separation process, which contain essentially all of the copper and zinc minerals, would feed a standard flotation process plant with design capacity of 6,500 tonnes per day to accommodate variations in the proportion of magnetite in run of mine material. Feed grade to the flotation plant is expected to be in the range of 3-6% Zn.
Expected metallurgical recovery for zinc is 92% into a clean concentrate grading 55% zinc and containing high levels of indium with no deleterious elements. Approximately 74% of the copper is expected to be recovered into a clean concentrate grading 29% copper with payable levels of silver and gold and no deleterious elements.
Projected production of payable metals is summarized in the table below:
| | | |
| --- | --- | --- |
| | Annual Average | Life of Mine |
| Zinc (Mlbs) | 107.9 | 1,594.3 |
| Copper (Mlbs) | 9.9 | 146.7 |
| Indium (t) | 38.3 | 566.1 |
| Magnetite (Mt) | 1.0 | 14.5 |
| Gold (Koz) | 7.6 | 113.0 |
| Silver (Koz) | 76.9 | 1,137.0 |
Capital and Operating Costs
The projected capital and operating costs for West Desert over a 14.8 year mine life are summarized in the tables below.
West Desert Capital Costs (US$ millions)
| | |
| --- | --- |
| Underground Development | 105.4 |
| Project Development | 7.0 |
| Facilities | 5.2 |
| Mining Equipment | 50.9 |
| Process Plant | 123.1 |
| Tailings | 33.2 |
| Contingency, Indirects, and EPCM | 64.1 |
| Life of Mine Capital Cost | 388.9 |
| Sustaining Capital | 141.5 |
| Initial Capital Cost | 247.4 |
West Desert Operating Costs (US$ per tonne)
| | |
| --- | --- |
| Mining Cost | 23.00 |
| Expensed Development | 3.00 |
| Processing Cost | 12.23 |
| Tailings Cost | 0.25 |
| G&A Costs | 2.60 |
| Total Operating Cost | 41.08 |
C1, C2 and C3 cash costs (as defined by Brook Hunt) per pound of payable zinc are listed in the table below. C1 costs include sustaining capital.
West Desert Average Cash Costs (US$) per Lb Payable Zinc
| | |
| --- | --- |
| C1 - Direct Cash Cost | (0.04) |
| C2 - Production Cost | 0.45 |
| C3 - Fully Allocated Cost | 0.50 |
Opportunities for Enhanced Economics
good potential to increase the resource to the east, west and south
potential for the discovery of localized higher-grade areas within the resource
very good potential for the discovery of additional mineralized zones within the Project area
potential for additional recoverable zinc and copper at depth, within the magnetite resource but beyond the current limits of zinc-copper data
transportation costs for iron concentrate (magnetite) could be significantly reduced through contract negotiations with the railroads and/or sourcing a domestic consumer(s) in the United States
potential to process oxide zinc mineralization
potential cost reductions associated with optimization of the tailings facility