Indy
InZinc Mining Ltd. has the option to acquire a 100% interest in the early stage Indy zinc project located in central British Columbia. The project has regional scale discovery potential. Indy hosts extensive under explored, near surface zinc mineralization at the Tex Zone, a 450 m long mineralized zone outlined by historical drilling. Numerous large, untested soil geochemical anomalies also provide near surface targets with open pit potential.
Exploration Programs
The 2017 field program consisted of geochemical surveys, geological mapping and prospecting in the anomaly B and C areas, two of four high priority areas occurring over a 6.5 km trend at Indy. The program identified multiple, extensive geochemical anomalies defined across a 1.5 km trend known to host zinc mineralization. In addition, a separate large and open-ended zinc in soil anomaly has been outlined in the central area of the project.
Historical Highlights
Ground access, 55 km from major highway, 70 km from trans-continental rail
Last comprehensive exploration by majors 26 years ago
450 m long mineralized Tex Zone outlined by shallow, wide spaced historical drill holes
Tex Zone drill intersections range from 1.5 m to 19.7 m widths, grading from 1.9% to 8.9% zinc, from 1.0 g/t to 55.6 g/t silver and from 0.04% to 2.4% lead
All mineralized Tex Zone intersections estimated within 100 m of surface
Tex Zone open for expansion on strike, at depth and is a priority drill target
Surface zinc oxides grading 45.5% zinc and 7.9 g/t silver in recent grab samples
Multiple, large soil geochemical anomalies over 6.5 km strike offer potential for additional discoveries
Four styles of zinc mineralization are widespread and only partially explored
The project area covers 9.8 kilometres of deformed sedimentary rocks spanning the Cambrian to Lower Mississippian; a geological period known to produce most of the major western Canadian zinc deposits.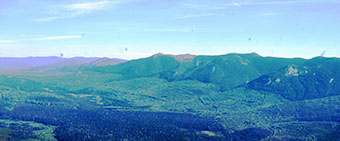 Looking Northeast to the Indy Project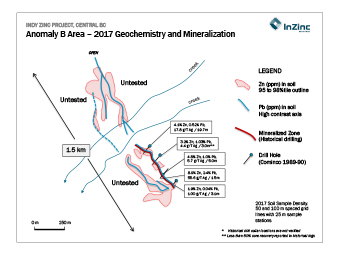 Anomaly B Area
2017 Geochemistry and Mineralization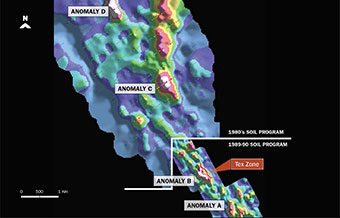 Four Large Geochemical Anomalies Over 6.5 km
Compiled Soil Geochemistry (Pb ppm) 1980s and 1990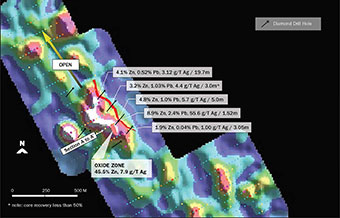 Tex Zone – 450 m Mineralized Trend – Open
Intersections Within 100 m of Surface – Diamond Drilling 1989-90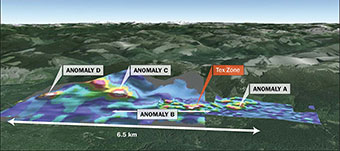 Moderate Terrain
View to East – Imaged Pb (ppm) Soil Geochemistry – 1980s and 1990