Indy
Advancing Exploration in a New and Accessible Canadian Zinc Belt
A new discovery of high-grade Sedex-type mineralization by geochemical prospecting
25km mineralized trend – Road accessible, close to rail and hydro-power
Maiden drill program in 2018 – Shallow, high-grade mineralization, open for expansion

12.3% Zn, 3.0% Pb and 24.5 g/t Ag over 6.3m at 60m below surface
Nine of eleven holes drilled intersected shallow mineralization

Extensive new targets acquired and defined in 2019
Large geochemical anomalies identified – With 6.5km of untested, high quality drill targets
2021 Phase 1 exploration program defined very large zinc and new silver targets
InZinc Mining Ltd. has an option to earn a 100% interest in the Indy Sedex project in central British Columbia. The Indy project is located 90km southeast of the city of Prince George.
NEW DISCOVERY OF SEDEX TYPE MINERALIZATION AT B-9 ZONE
InZinc's maiden drill program in 2018 was the first exploration program to successfully identify Sedex - type mineralization in this area of North America, opening the potential for a new Sedex district in an accessible, unexplored area of central British Columbia.

High-grade, shallow mineralization was announced in the first drill program (B-9 Discovery) in late 2018. At 50m below surface, discovery hole IB18-009 intersected 15.3% (Zn+Pb) and 24.5 g/t silver over 6.3m, including 46.6% (Zn+Pb) and 45.8 g/t silver over 0.5m.(HQ Core)
Indy was acquired by option agreement (100% earn-in) in 2017.The Indy project consists of 16 mineral claims spanning over a 25km trend comprised of under explored mineral showings and large zinc-in-soil anomalies within rocks with a known affinity for hosting large zinc deposits. The underlying sedimentary rocks are correlated by the Geological Survey of Canada to rock sequences of the remote Selwyn Basin of northern British Columbia and the Yukon, host to the largest undeveloped Sedex (zinc) resources in the world.
SEDEX TYPE DEPOSITS ARE RARE AND PROLIFIC
Only about 129 known Sedex deposits in 25 unique sedimentary belts are known globally (USGS, 2012). Many of these are challenged by remoteness or political insecurity.
The best-known Canadian Sedex deposit is the Sullivan deposit in southeastern British Columbia, which until 1992 produced over $20 billion in zinc, silver and other metals.
Known to form in clusters or districts and only within unique sedimentary sequences of certain ages, Sedex deposits collectively comprise the largest deposits, reserves and zinc production on the planet. Accordingly, Sedex deposits are highly sought by base metal producers for their predictable grade, large resources and district potential.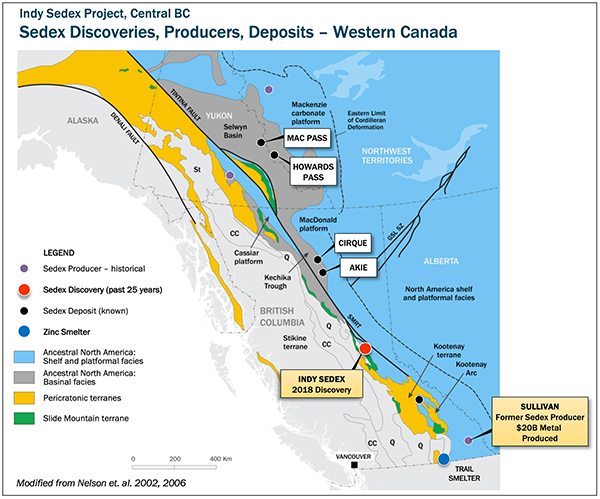 LOCATION, LOCATION, LOCATION
Unlike precious metals, base metal economics are very sensitive to location. Proximity to road, rail, power and ports are a key to low-cost discoveries and successful production.
The Indy Sedex project is located 90km southeast of the city of Prince George, British Columbia, the major hub for transportation and heavy industry in central British Columbia.
Indy is about 1.5 hrs drive via paved and multi-season forestry roads from Prince George. The intercontinental Canadian National Railway (CNR) servicing the Port of Prince Rupert and connecting to the Port of Vancouver is located 85 km by road to the north of the property. Hydro-electric transmission lines are located within 40km of the property.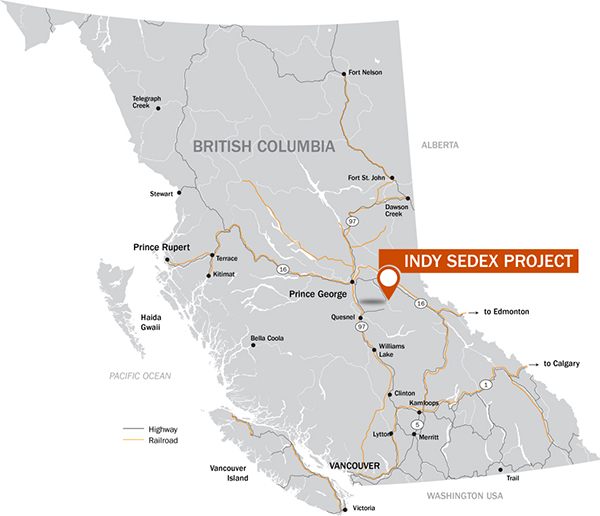 Recent improvements supporting forestry activities have substantially improved logistics and access to the property.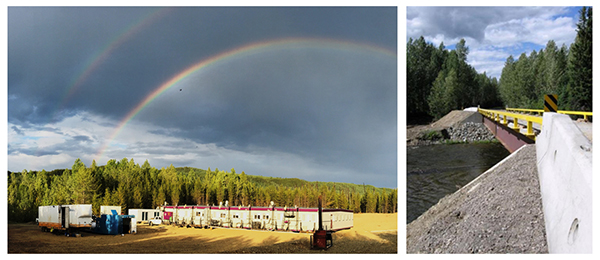 A 50 person camp was constructed Spring 2019 – located 10km by road from the B-9 Discovery area. Road improvements are also supporting cost-effective ground-based exploration.
IDEAL GEOLOGICAL SETTING
Regional and Property Geology - An Ideal Setting for Sedex Deposits
The Indy property straddles the divide between two continental scale geological terranes. To the west are rocks of the Slide Mountain group, an ancient seafloor formed off the western edge of ancient North America in the Devonian period. To the east, the older rocks of the Cariboo Group consist of displaced, ancient North American rocks and include ancient (Cambrian) limestone reefs and older shale sequences correlated to portions of the Rocky Mountains.
Between these two rock groups, underlying the bulk of the project, are the sedimentary sequences of the Black Stuart Group. Comprised of black pelites, limestones, dolomitic sequences and unique sedimentary breccias, these are the rocks correlated to the prolific Sedex bearing Selwyn Basin (Earn and Road River formations) in northern British Columbia and the Yukon (GSC, 1988). They also host the mineralization discovered in 2018 at the B-9 Zone at Indy. The rocks of the Black Stuart Group are called rift-basin sequences and likely signify once active continental scale faulting along the western edge of ancient North America during the Ordovician to Mississippian periods – an ideal geological setting for Sedex deposit formation.
More recent glacial activity produced a thick valley fill and thinner valley edge cover which is extensive in the area. Surface outcrop exposures are limited.
The property is host to numerous unexplored zinc and barite occurrences. Some are comprised of secondary zinc oxides (formed near surface from the weathering of primary deposits) and as such, useful as indicators of possible primary deposits nearby. Barite is also a well-known proximal indicator of Sedex deposits.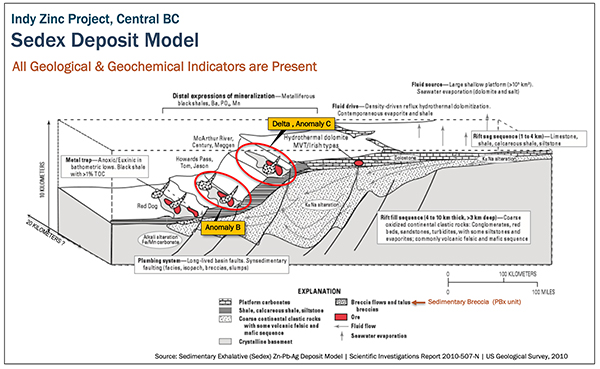 | | |
| --- | --- |
| | Zinc oxides (45% zinc in selected sample) were identified in 2012. This occurrence is located at surface and is an indicator of the subsurface zinc sulphide mineralization present at the B-9 Discovery. |
2021 MAIN TREND EXPLORATION – New Echo Zinc Target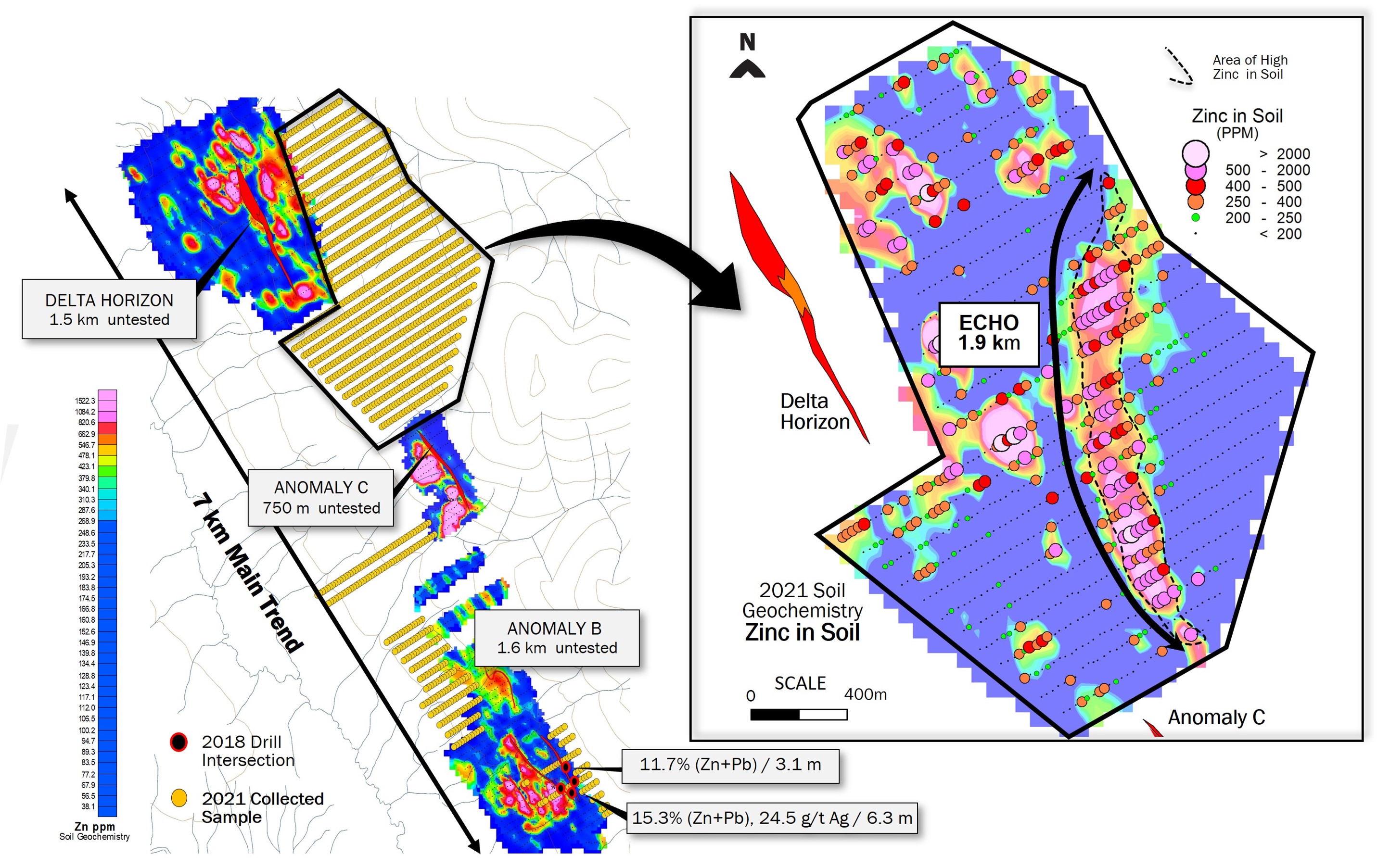 2021 MAIN TREND EXPLORATION – New Silver Targets